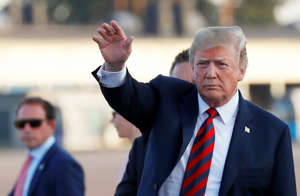 © Leonhard Foeger/ REUTERS U.S. President Donald Trump gestures as he arrives at Helsinki-Vantaa airport in Vantaa, Finland, July 15, 2018. REUTERS/Leonhard Foeger


U.S. President Donald Trump said in a Twitter post on Monday his predecessor, Barack Obama, paid little attention to FBI allegations of Russian election meddling and they were only taken seriously after he was elected.
"President Obama thought that Crooked Hillary was going to win the election, so when he was informed by the FBI about Russian Meddling, he said it couldn't happen, was no big deal, & did NOTHING about it. When I won it became a big deal and the Rigged Witch Hunt headed by Strzok!" Trump wrote on Twitter.
Trump was referring to Hillary Clinton, his Democratic rival in the 2016 presidential election, and Peter Strzok, an FBI agent who criticized Trump during the campaign. (Reporting by Polina Devitt Writing by Christian Lowe Editing by Paul Tait)