The World Economic Forum's annual meeting in Davos, Switzerland, next week will host its usual line-up of industry titans, globe-trotting financiers and politicians of all ideological hues. The gathering is still almost certain to be dominated by just one of them: Donald J. Trump.
The most controversial American president in decades will be the first U.S. leader since Bill Clinton to attend the world's premier economic summit, arriving on Air Force One with a big delegation in tow including Treasury Secretary Steve Mnuchin and National Economic Council director Gary Cohn. Embattled by persistent questions about his fitness for office, the Davos stage — where Trump will deliver a speech on the final day of the forum — provides him with an opportunity to advocate for his "America First" economic and foreign policies in front of one of the world's most influential audiences.
The WEF's organizers will be hoping Trump's presence isn't an undue distraction from the gathering's other themes, chief among them the need to reckon with sexual harassment and the persistence of inequality between genders. This year's event will be presided over for the first time by an all-female group of co-chairs that includes International Business Machines Corp. Chief Executive Officer Ginni Rometty, Norwegian Prime Minister Erna Solberg and Fabiola Gianotti, the head of the CERN center for nuclear research.
The recent wave of harassment allegations that has roiled entertainment, politics and the media will be a clear focus on the agenda, with at least three sessions tackling the issue. Microsoft Corp. executive Peggy Johnson and Maryam Monsef, Canada's minister for the status of women, will headline a Jan. 23 panel on "Gender, Power, and Stemming Sexual Harassment." A Jan. 24 session on "Shaking Up Beliefs and Behaviors about Gender" will include Carolyn Tastad, the group president for North America at Procter & Gamble Co. — one of the world's largest advertisers.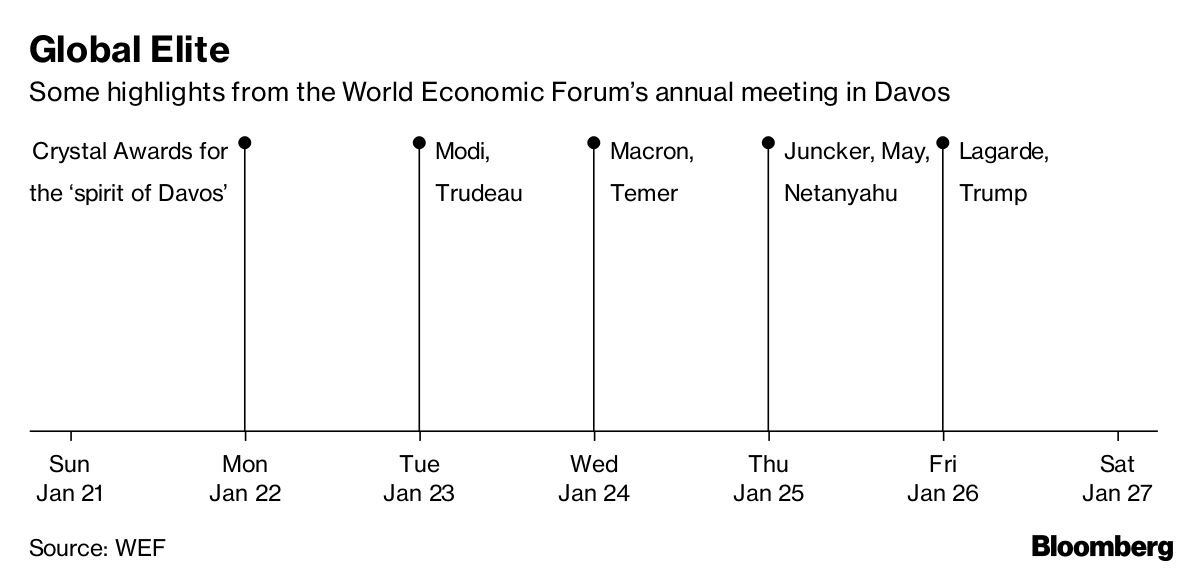 The WEF, whose attendees naturally represent the winners of globalization, has long grappled with how to address inequality stemming from the 21st century's knowledge-intensive economy. With artificial intelligence and other advanced technologies threatening to make widening categories of human labor obsolete, further polarization from the so-called fourth industrial revolution is a growing dilemma. The long-term impacts of AI will be a theme of one of the forum's marquee one-on-one events, a Jan. 24 session in which WEF founder Klaus Schwab interviews Google CEO Sundar Pichai.
Yet for all the WEF's future-focused programming, the assembled investors, businesspeople and politicians are likely to be most focused on more immediate questions of economics and geopolitics. For clues, they'll be able to attend set-piece speeches from a wide range of world leaders. 
French President Emmanuel Macron will make his pitch on transforming the second-largest economy in the euro area on Jan. 24. The next day, U.K. Prime Minister Theresa May will urge investors not to give up on Britain amid the bruising debate over the country's exit from the European Union. Indian Prime Minister Narendra Modi will give one of the most closely-watched addresses on Jan. 23, when he will seek to position his country as a rival to China as the leading economic power of the emerging world.
For pure, eyeball-riveting drama, though, it will be hard to beat Trump. His speech will be one of the last major events of the week in Davos, meaning that everything before it will, inevitably, seem like a bit of an extended preamble. Almost no one headed to the Alps, including perhaps the president's own staff, knows quite which leader to expect — the pragmatic Trump with eclectic political views who appeared in flashes during his 2016 campaign, the populist firebrand who tried to ban large numbers of Muslims from entering the U.S. immediately after taking office, or something in between. 
Only one thing's for sure: to a greater extent than any year in recent memory, all eyes will be on Davos next week.
Davos Highlights

Jan. 22

Cate Blanchett and Elton John present the 24th Crystal Awards to artists who best represent the 'spirit of Davos'

Jan. 23

Indian Prime Minister Modi makes the opening address
Justin Trudeau, Canada's prime minister, discusses the country's G7 agenda
Davos co-chairs discuss the big picture in the panel "Creating a Shared Future in a Fractured World"

Jan. 24

Michel Temer, president of Brazil, makes speech and participates in panel
Discussion with King Felipe VI of Spain
Speech by Italian Prime Minister Paolo Gentiloni
French President Macron's speech

Jan. 25

U.S. Treasury Secretary Mnuchin, BlackRock Chairman Laurence Fink, Deutsche Bank Chairman Paul Achleitner and IMF chief Christine Lagarde discuss bitcoin and the future of the dollar in the session "The Remaking of Global Finance"
Discussion with Jordan's King Abdullah II
Jean-Claude Juncker, president of the European Commission, speaks about the future of the EU
Argentina's President Mauricio Macri discusses the G20's 2018 agenda
U.K. Prime Minister May's speech
Discussion with Benjamin Netanyahu, prime minister of Israel

Jan. 26

IMF chief Lagarde, Bank of Japan Governor Haruhiko Kuroda and Bank of England Governor Mark Carney assess the prospects for 2018 in the panel "Global Economic Outlook"
U.S. President Trump makes keynote speech before the close of the gathering
— With assistance by Zoe Schneeweiss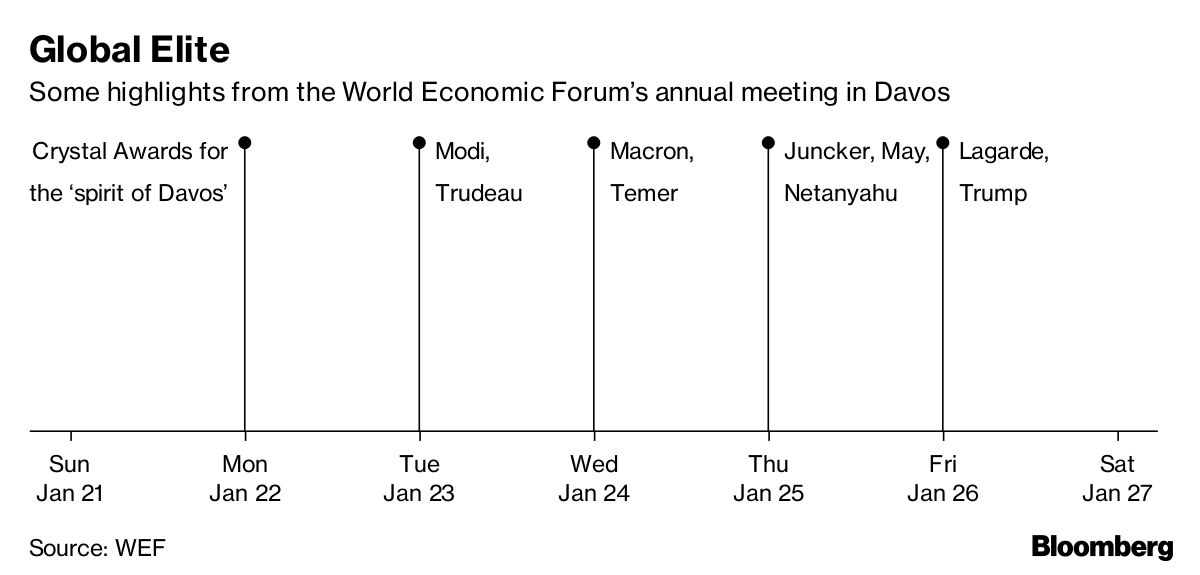 https://www.bloomberg.com/news/articles/2018-01-16/trump-anxiety-harassment-fallout-to-dominate-annual-davos-forum