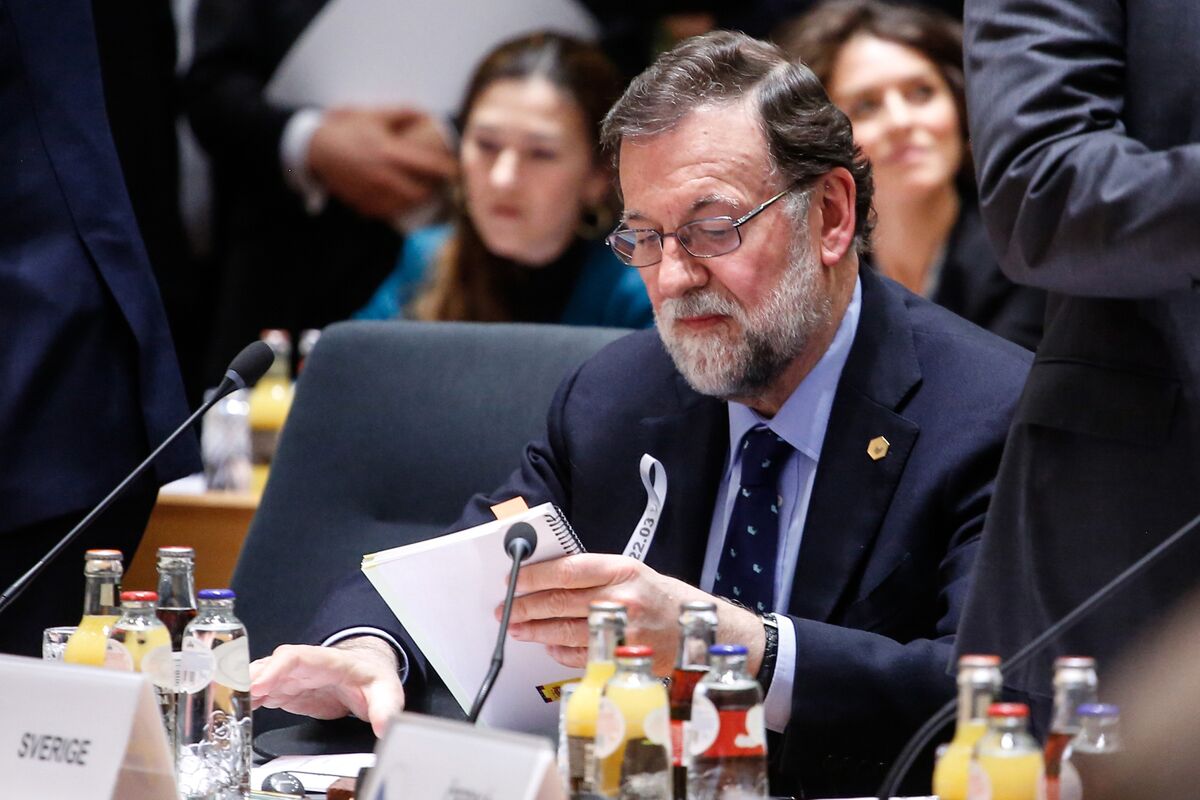 Spain's biggest opposition party, the Socialists, is ready to push for a no-confidence motion against Prime Minister Mariano Rajoy after his former aides were convicted of running a multimillion-euro corruption racket inside the party on his watch, according to people familiar with the plans.
Socialist leader Pedro Sanchez will hold an emergency meeting of the party's federal committee at 11 a.m. Friday where the leadership is set to back his call for a parliamentary vote on Rajoy's ouster, said the people, who asked not to be named discussing party strategy. Party press officers didn't respond to text and voice messages seeking comment after business hours.
Rajoy's government is on the ropes after the National Court ruled Thursday that former party officials had operated an illegal slush fund that helped finance election campaigns as well as amassing almost 50 million euros ($59 million) in a Swiss bank account for the former treasurer, Luis Barcenas. Rajoy, who was called as a witness during the trial, has repeatedly denied any wrongdoing.
While the anti-establishment party Podemos has already called for a no-confidence vote, the ploy will hinge on Ciudadanos, the fourth-biggest party in the national parliament. In Spain's fragmented parliament, the Socialists and Podemos don't have the votes on their own to defeat Rajoy.
Long Sentences
Ciudadanos has been leading in most opinion polls this year after drawing voters from both Rajoy's People's Party and the Socialists. Even if Ciudadanos refuses to back the motion, the Socialist stand to gain by forcing its leader, Albert Rivera, to choose sides, potentially costing him support, the people said.
Twenty-nine former party officials and their associates were sentenced to more than 350 years in jail for their roles in the slush fund between 1999 and 2005. Rajoy became party leader in 2004. A separate criminal trial in connection with the party's affairs from 2005 is due in the coming months.
Barcenas was ordered to pay fines of more than 44 million euros and serve 33 years in jail. The PP itself was ordered to repay more than 245,000 euros, the amount of funding it received from the scheme.
"The PP faces a civil responsibility not a criminal one," party coordinator Fernando Martinez-Maillo told reporters after the ruling. "We should make this clear."
https://www.bloomberg.com/news/articles/2018-05-24/spanish-opposition-is-said-to-plan-no-confidence-vote-for-rajoy