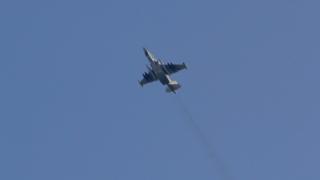 A Russian Sukhoi-25 fighter jet has been shot down in a rebel-held area near Idlib in north Syria, reports say.
The pilot was said to have ejected before the crash and been captured, the Syrian Observatory for Human Rights monitoring group said.
Video posted on social media appeared to show the plane being hit, while other video showed burning wreckage on the ground, with a red star on a wing.
Russia has acted alongside its Syrian allies targeting rebels in the area.
Syrian government troops launched a major offensive around Idlib in late December, backed by Russian jets.
The fate of the pilot has not yet been confirmed, nor which group shot his plane down or captured him.
Hardline rebel groups including the jihadist, al-Qaeda-linked Hayat Tahrir al-Sham are active in the north-western province.
The Sukhoi-25 is a close-support ground-attack aircraft.
Russian air force losses have been rare since it began its Syria campaign in September 2015.
All five people on board a helicopter were killed when it was shot down over Syria in August 2016.