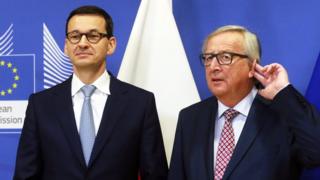 Poland's new PM Mateusz Morawiecki has said his country's dispute with the European Commission over judicial reform is just a "misunderstanding".
Mr Morawiecki said with "dialogue" he could convince Brussels that Poland was forming its first independent judiciary since the post-war communist era.
The European Union has warned that the reforms threaten the rule of law and has launched disciplinary measures.
Poland's government has said that the new laws are needed to curb corruption.
Speaking in Warsaw on Wednesday, Mr Morawiecki said he believed that dialogue with the European Commission would lead to "mutual understanding and de-escalation".
"I generally believe that with added effort to explain our intentions we will be able to clarify the misunderstandings," he said.
"I want the European Commission to be assured, to be convinced that our judicial system is more independent, is more objective, is more transparent." Mr Morawiecki added.
He said the reforms were needed because the judiciary was currently "bloated, overpaid and a closed caste" where judges were reluctant to discipline each other.
Mr Morawiecki said his government's reforms would bring change by introducing "some elements of control", adding that the solutions were identical or similar to those introduced in other EU countries.
Cabinet reshuffle
The Commission has said that the country's 13 new laws introduced over two years have allowed Poland's conservative government to "interfere significantly" in the judiciary, endangering the values of the bloc.
In December, the EU launched unprecedented disciplinary measures against Poland and the Commission has given Warsaw three months to negotiate a solution.
The Commission has asked Warsaw to:
Not apply a lower retirement age to current judges
Remove the discretionary power of the president to prolong the mandate of Supreme Court judges
Remove the new retirement regime for judges, including the discretionary powers of the Minister of Justice
Restore the independence and legitimacy of the Constitutional Tribunal
On Tuesday, Mr Morawiecki sacked Poland's Defence Minister Antoni Macierewicz and Foreign Minister Witold Waszczykowski as part of a major cabinet reshuffle in a bid to mend ties with the country's EU partners.
"We don't want to be a dogmatic, doctrinaire or extremist government," he said, following a meeting with Commission President Jean-Claude Juncker and Vice-President Frans Timmermans.