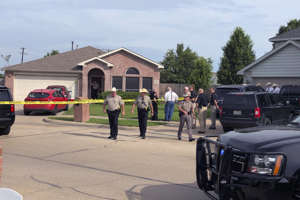 © Julian Gill/The Denton Record-Chronicle/AP Photos Denton County Sheriff Deputies work the scene of a shooting in Ponder, Texas where multiple people died Wednesday, May 16, 2018 according to Capt. Orlando Hinojosa, a spokesman for the Denton County Sheriff's Office.


PONDER, Texas — Authorities say multiple people have died in a shooting at a home in a rural town north of Fort Worth.
Denton County sheriff's Capt. Orlando Hinojosa tells the Denton Record-Chronicle that the shooting occurred Wednesday morning at the home in Ponder, about 30 miles (50 kilometers) north of Fort Worth.
Hinojosa says there's no active shooter but did not release any details about a suspect. He declined to say how many people have died or release any information on the victims.
School Superintendent Bruce Yeager said in a statement that no students or district staff are listed as living at the home and that police told him no there is no threat to any schools.
No other information on the shooting has been made available.