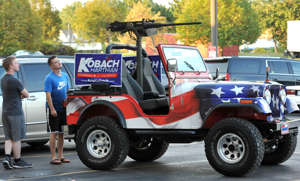 © Getty TOPEKA, KS – AUGUST 07: A jeep equipped with a military style mounted gun that was used heavily by Republican primary candidate for Governor Kris Kobach. Kobach sits outside the Capitol Hotel, the site of the Kobach watch party. Kobach was supported by President Trump against incumbent Governor Jeff Colyer on August 7, 2018 in Topeka, Kansas. (Photo by Steve Pope/Getty Images)


Local officials spread across Kansas' 105 counties will exercise an incredible amount of power this week when they determine whether thousands of ballots should count in the closest primary race for governor in Kansas history.
The roughly 9,000 provisional ballots, awaiting rulings from county officials across the state, will likely decide whether Gov. Jeff Colyer or Secretary of State Kris Kobach emerges as the Republican candidate in the fall.
More than 40 percent of the provisional ballots were cast in the state's two most populous counties, Johnson and Sedgwick. The ballots have the power to swing the Kansas race in Colyer's favor or solidify a victory for Kobach.
Kobach's role as the state's chief election official has heightened the scrutiny of the vote-counting process in the contentious race. After a backlash this week, Kobach announced Friday that Assistant Secretary of State Eric Rucker will oversee the process in his stead.
Colyer's campaign plans to send representatives to all 105 canvassing board meetings to ensure the governor receives every possible vote. The candidates went into the weekend separated by a mere 110 votes.
The uncertainty about the winner has drawn comparisons to the standoff between George W. Bush and Al Gore during the 2000 presidential election, when a few hundred votes separated the two candidates in Florida.
Bryan Caskey, who works under Kobach as the state's director of elections, said that usually 60 to 70 percent of provisional ballots end up being counted in the final tally.
"We always count more than we don't count," he said.
County election offices spent the days after the election separating provisional ballots into categories. Canvassing boards will then vote on whether to accept the ballots in each category.
Caskey said a voter may be told to cast a provisional ballot for a variety of reasons, including the lack of a government-issued ID, but the most common reason is that voters changed their addresses and forgot to update their voter registrations.
"That's the No. 1 reason every election," he said. A change of name could also force a voter to cast a provisional ballot on Election Day, he said.
Colyer's campaign has identified specific categories of concern, including unaffiliated voters who were told to cast a provisional ballot.
Kansas voters must belong to a party to cast a primary ballot, but Kansas law allows a voter to declare a party at a polling place on Election Day.
Hundreds of mail-in ballots also may be in legal limbo because of a dispute between Kobach's office and Colyer's campaign about whether they require a postmark to prove they were sent by the primary day deadline.
"Our hope is that he gets a fair shake," Marr said of Colyer. "I think there's a few things we can do to ensure that, several of which we've included in our letter to the secretary of state."
Friday evening, Attorney General Derek Schmidt announced that he was instructing all counties to preserve election records for "any potential litigation related to this election."
Kobach, who has frequently warned about voter fraud as a threat to election integrity, responded to Colyer in an open letter Friday afternoon, telling him that his accusations do "nothing to increase the public's trust in the elections process and is beneath the office of governor."
Kobach said "local election officials have earned a reputation of providing Kansans with honest and accurate elections. I have every confidence that these local officials will carry out their obligations in this tradition of excellence."