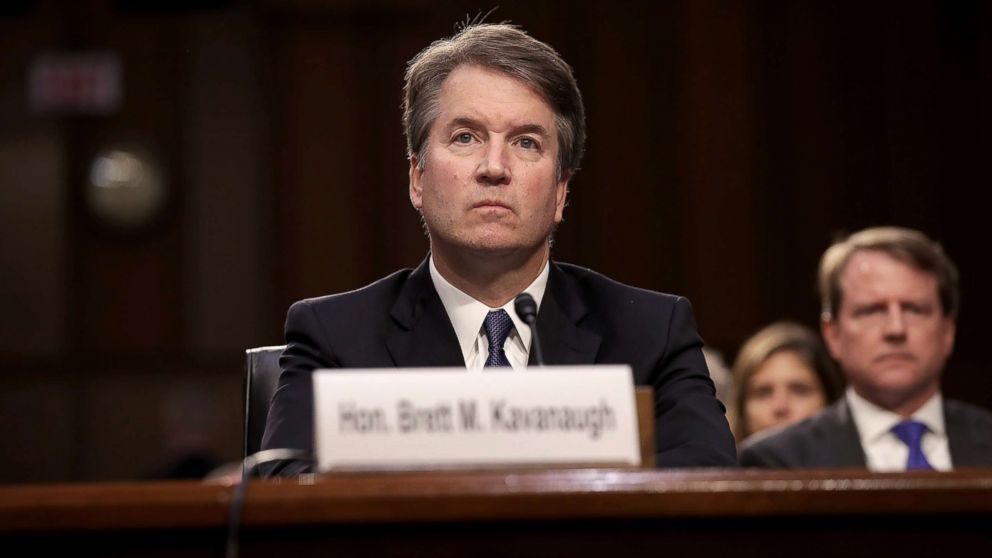 President Trump's Supreme Court nominee Brett Kavanaugh on Friday strongly denied newly-surfaced allegations from a woman who, according to the New Yorker, is claiming he "attempted to force himself on her" during a party when they were both in high school in the early 1980s.
"I categorically and unequivocally deny this allegation," Kavanaugh said in a statement released by the White House Friday. "I did not do this back in high school or at any time."
The New Yorker on Friday reported details of the allegations made by the woman, who has declined to reveal her identity, that are contained in a letter that the magazine said was given to the top Democrat on the Senate Judiciary Committee, Sen. Dianne Feinstein.
According to the New Yorker, the woman claims that "during the party, Kavanaugh held her down and that attempted to force himself on her."
The magazine reported the allegation in the letter was "that Kavanaugh and a classmate of his, both of whom had been drinking, turned up music that was playing in the room to conceal the sound of her protests, and that Kavanaugh covered her mouth with his hand."
The account said, "she was able to free herself."
The existence of the letter was first reported by the online news outlet, The Intercept, on Wednesday. The New York Times reported Thursday that the letter was regarding "possible sexual misconduct" from when Kavanaugh was in high school.
ABC News has not confirmed details of the letter's contents or seen the letter.
On Thursday, Feinstein said she had received "information" regarding Kavanaugh and has passed it on to the FBI.
"I have received information from an individual concerning the nomination of Brett Kavanaugh to the Supreme Court. That individual strongly requested confidentiality, declined to come forward or press the matter further, and I have honored that decision. I have, however, referred the matter to federal investigative authorities," Feinstein said in a statement Thursday.
According to a source cited by the New Yorker, Feinstein learned of the alleged incident in July and while her staff mentioned it to other Democratic lawmakers, they did not share the letter with them. The allegation was not raised at any time during the judge's confirmation hearings.
The FBI confirmed it had received the letter but indicated it was not immediately pursuing the allegations.
ABC News has reached out to Debra Katz, a lawyer identified by Buzzfeed as counsel to the woman who has come forward with the allegation but received no response.
Senate Republicans on Friday released a letter from 65 women who knew Kavanaugh during his high school years vouching for his character.
"We are women who have known Brett Kavanaugh for more than 35 years and knew him while he attended high school between 1979 and 1983. For the entire time we have known Brett Kavanaugh, he has behaved honorably and treated women with respect," the women said in the letter sent Friday to Senate Judiciary leaders.