Luiz Inacio Lula da Silva is no longer quite the political dynamo he once was. At 72, he's a touch grayer, a touch weaker — after a bout with cancer and the loss of his wife — and a touch less popular than he was when he swept to a landslide victory back in 2002.
But make no mistake about it, the man known simply as Lula remains the dominant figure in Brazil's politics. The crippling recession and sprawling pay-for-play scandal that engulfed the nation following his exit from office have only dented his popularity some. To millions of Brazilians, he is still the radical champion of the poor. Never mind that he himself has been implicated in the corruption probe, alongside numerous other officials in his political party.

All of which is why an appellate court ruling slated for Wednesday that will either uphold or suspend Lula's nine-and-a-half-year prison sentence has become a crucial moment in this year's presidential election. If the sentence is upheld, Lula figures to be barred from running. If it's thrown out, he'll likely run and stand a real chance of winning.
Everyone across the country is on edge — from Lula's die-hard base in the northeast to the traders and investors in Sao Paulo. The latter dread the prospect of a Lula candidacy, fearing that he wouldn't be committed enough to fiscal austerity to sustain the country's nascent recovery from crisis.
"This is a tremendously big decision for Brazil," said Peter Hakim, the president-emeritus of the Inter-American Dialogue.
Since his conviction in July last year, polls have shown a steady increase in support for Lula, with the latest Datafolha survey finding 36 percent of the electorate would vote for him. His nearest rival, far-right congressman Jair Bolsonaro, had the backing of 18 percent. By contrast, approval ratings for the administration of President Michel Temer languish in single digits.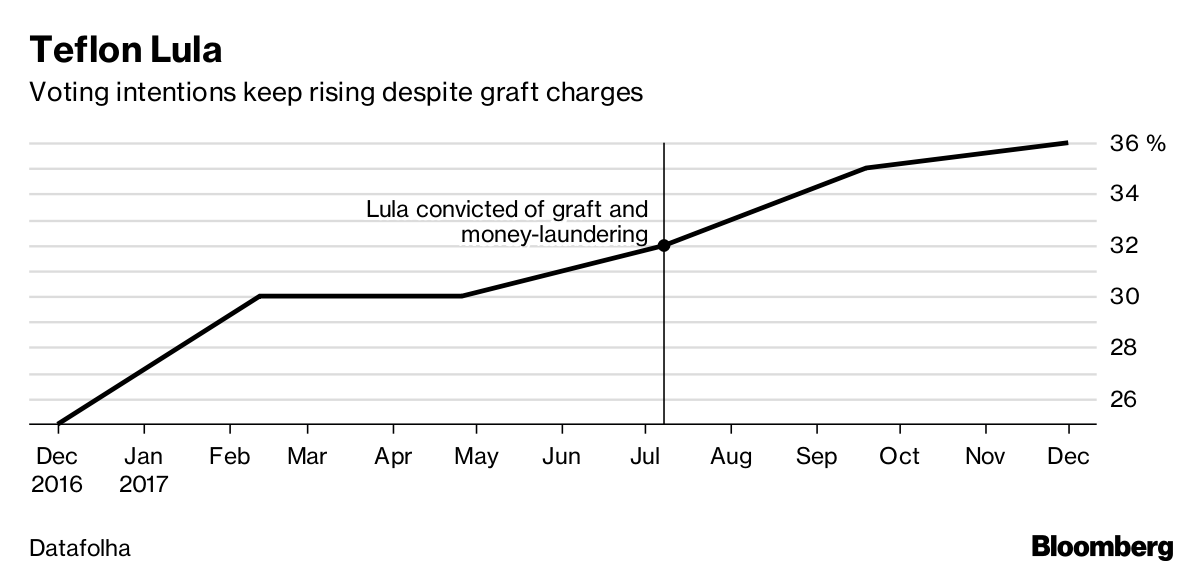 Lula's years in the presidency were characterized by a commodities-fueled boom, but the thought of the ex-trade union leader returning to power has left many in the markets uneasy. A late November survey of over 200 institutional investors by XP Investimentos found that almost half believed his victory would wipe around 25 percent off the value of the Bovespa and sink the real.
"Lula's candidacy would add uncertainty at a time when the economy is starting to show signs of life," said Eugenio Aleman, senior economist at Wells Fargo Securities LLC in Charlotte, North Carolina. "If he wins and wants to undo everything that has been done in the last year, that's not good for markets."
As his legal appeal wound its way through the courts, the gravel-voiced former factory worker toured Brazil, firing up supporters with his folksy blend of humor, anecdote and left-wing politics. Crowds nostalgic for the boom years of his presidency, weary of economic malaise and revolted by the current administration's own corruption scandals, swoon for his anti-austerity pledges.
Click here for Bloomberg's Brazil Social Media Monitor to track candidates
At a packed rally in an upscale Rio de Janeiro neighborhood this month, Lula's Workers' Party assembled an array of musicians, artists and intellectuals to speak or perform in his defense. Addressing a sea of red-shirted supporters, Lula said that all he wanted was the opportunity to take part in the elections.
"The people have the right to vote," he said. "If I lose at the ballot box, you know I'll accept the result."
Lula left the presidency in 2010 with an approval rating of around 80 percent. While he helped steer his hand-picked successor, Dilma Rousseff, to two election victories, his reputation soured as the economy tanked and corruption charges piled up.
Aside from his conviction for accepting 3.7 million reais ($1.2 million) — principally in the form of a beachside apartment — from a construction company in return for favors, he faces six other criminal charges. Lula maintains his innocence and says the accusations are politically motivated.
Risk of Future Rating Downgrades Can't Be Ignored: Bloomberg Intelligence
Many investors say the former trade unionist has changed since he first took office a decade and a half ago, catering more to the far left to ensure support.
"Gone are the times when the market was really OK with Lula," said Vladimir Caramaschi, chief-strategist at CA Indosuez. "The perception is that the candidate and platform will be different than in 2002."
Indeed, many Brazilians are outraged by the prospect of Lula returning to the presidential palace. The December Datafolha survey found that 39 percent of the electorate would not consider voting for Lula under any circumstances. While the Workers' Party is organizing rallies in his support during the week of the court hearing, opponents are also planning demonstrations demanding his imprisonment.
For Hakim, a decision that stops Lula from running while allowing the participation of other candidates, many of whom are also under suspicion of wrongdoing, could provoke a severe backlash among poorer Brazilians.
"He may even have stolen but he was the best president in Brazil's history, except for Getulio Vargas," the strongman who helped industrialize the country, said Antonio Martins de Lima, a 46-year-old dental assistant in Brasilia. "If he runs, I'll vote for him, even if he's convicted."
— With assistance by David Biller, Mario Sergio Lima, Vinicius Andrade, Gabriel Shinohara, and Samy Adghirni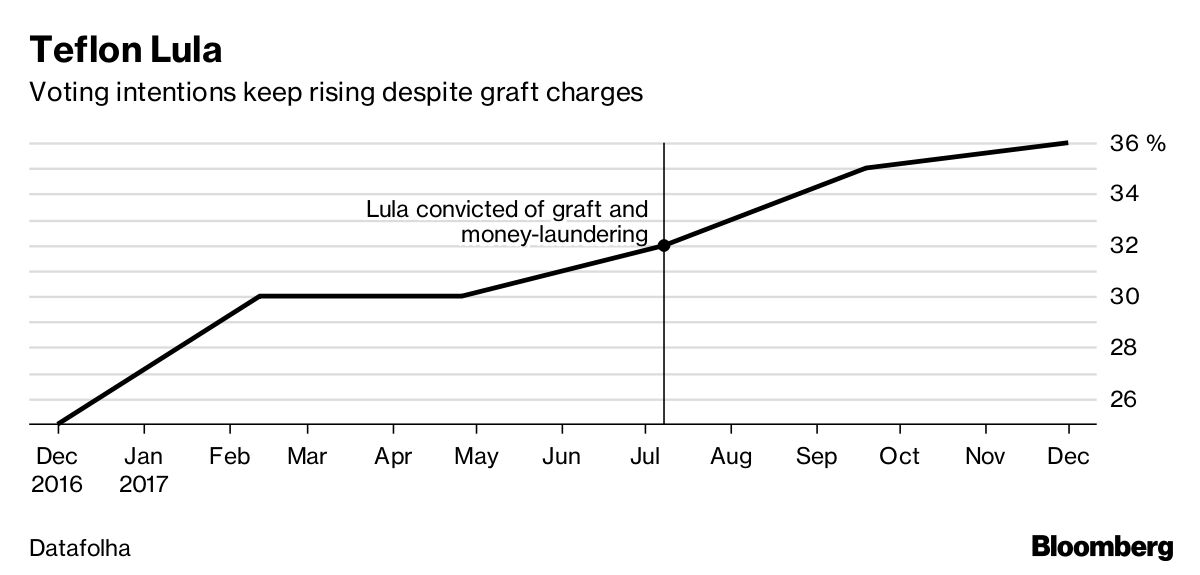 https://www.bloomberg.com/news/articles/2018-01-22/it-s-jail-or-the-presidency-for-lula-as-key-brazil-ruling-looms