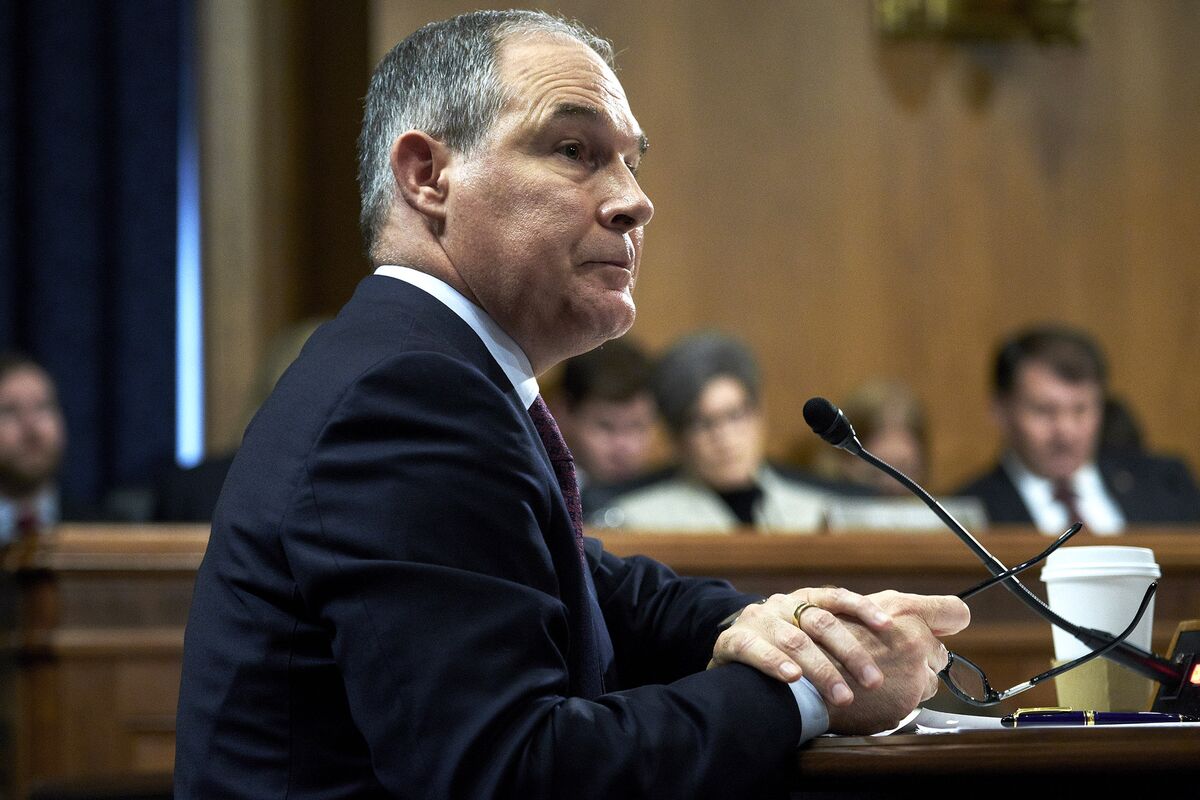 Scott Pruitt drew criticism from the moment President Donald Trump installed him at the helm of the U.S. Environmental Protection Agency, since the former Oklahoma attorney general had built his career challenging EPA rules. But that was nothing compared with the deluge of damaging revelations that have emerged in recent months. At last count, there were at least 10 open investigations of Pruitt, not counting informal inquiries. Here's a guide to who's investigating Pruitt and what's under the microscope:
Travel
The EPA's inspector general, an internal watchdog, is auditing Pruitt's travel, amid questions about frequent trips to his home state of Oklahoma at taxpayer expense and his reliance on first-class seats on commercial airplanes. This line of inquiry has twice been expanded to cover a longer time frame. The current window, through the end of 2017, permits scrutiny of Pruitt's December trip to Morocco to promote U.S. liquefied natural gas.
The House Oversight and Government Reform Committee is scrutinizing Pruitt's frequent first-class seats, marking House Republicans' first formal investigation of a member of Trump's cabinet. The panel broadened its investigation in April to seek more information about Pruitt's trips to Morocco and Italy, the administrator's security protection and his lease of a Capitol Hill condominium from a lobbyist. The Republican chairman also is asking for transcribed interviews with five key EPA aides.
Security
The EPA inspector general is probing Pruitt's round-the-clock security protection, including the possibility that bodyguards accompanied him on trips to Disneyland and the Rose Bowl.
Separately, the inspector general is auditing the administrator's protective service detail in response to an anonymous complaint lodged before Pruitt was nominated. In September, the inspector general released an interim report saying it had discovered an unauthorized $23,413 pay adjustment for an unnamed agent.
The inspector general says it is conducting preliminary research on how the EPA's criminal enforcement office reports "availability pay" awarded to officers who frequently work extra, unscheduled time beyond their regular workdays. 
Spending
The Government Accountability Office already concluded the EPA violated an appropriations law by failing to give Congress advance notification about plans to spend more than $43,000 installing a secure phone booth in Pruitt's office. The GAO said the EPA ran afoul of another law, the Antideficiency Act, by effectively spending government funds that hadn't yet been appropriated or exceeded the appropriate amount. Federal employees who violate the law are subject to suspension from duty without pay or removal from office, as well as fines and imprisonment.
The White House Office of Management and Budget is examining the purchase of that soundproof phone booth, which morphed from a no-more-than $13,500 project into a $43,000 booth with silenced ventilation and "noise-lock" paneling.
$50 Condo Rental
Pay Raises
The EPA inspector general is studying how Pruitt's office used special legal authority to fill up to 30 "administratively determined" positions and award pay raises to some political appointees. Two of Pruitt's top aides were given raises worth tens of thousands of dollars over White House objections, using special authority under the Safe Drinking Water Act. The authority, which has been used by Pruitt's predecessors, enables EPA administrators to swiftly bring on staff. Documents released as part of an interim report April 16 showed that Pruitt's chief of staff, Ryan Jackson, authorized the salary increases.
Lobbying
The GAO is examining whether the EPA violated lobbying laws because of Pruitt's appearance in a video describing his opposition to a rule on water pollution enacted under former President Barack Obama. The National Cattleman's Beef Association video urges ranchers to file public comments on the rule the EPA is now rewriting and features Pruitt explaining the importance of that input. House Democrats, including Representative Frank Pallone of New Jersey, said Pruitt's involvement in the video could run afoul of federal laws barring the use of taxpayer dollars for lobbying or propaganda purposes.
The EPA inspector general is compiling information about a meeting Pruitt had with the National Mining Association in April 2017, following a report the administrator urged the coal group to encourage Trump to pull the U.S. from the Paris climate agreement. Pallone and other critics said that if true, Pruitt's prodding would violate lobbying laws. Inspector General Arthur Elkins Jr. told Pallone he could submit the complied factual record to the GAO to investigate potential legal violations.
Pending Requests
Democratic lawmakers asked Trump to conduct his own investigation of allegations by Kevin Chmielewski, a supporter of the president who worked at the EPA and, they said, "painted an extremely troubling picture" of waste, unethical behavior and "potentially illegal" actions by Pruitt.
Senate Democrats have asked Pruitt to explain how his top bodyguard's business partner won a contract to search the administrator's office for listening devices. At issue is an EPA security move that may have enriched one of Pasquale "Nino" Perrotta's business partners, Edwin Steinmetz, the vice president for technical surveillance countermeasures at Perrotta's Maryland-based company, Sequoia Security Group Inc. Perrotta is the company's principal, and the EPA's $3,000 contract to search for bugs in Pruitt's office was awarded to Edwin Steinmetz Associates LLC.
Democratic lawmakers also have asked EPA's top ethics official to explain how the agency approved and monitors outside work by Perrotta and other employees.
The Reference Shelf
https://www.bloomberg.com/news/articles/2018-04-25/here-s-a-scorecard-of-the-scott-pruitt-investigations-quicktake