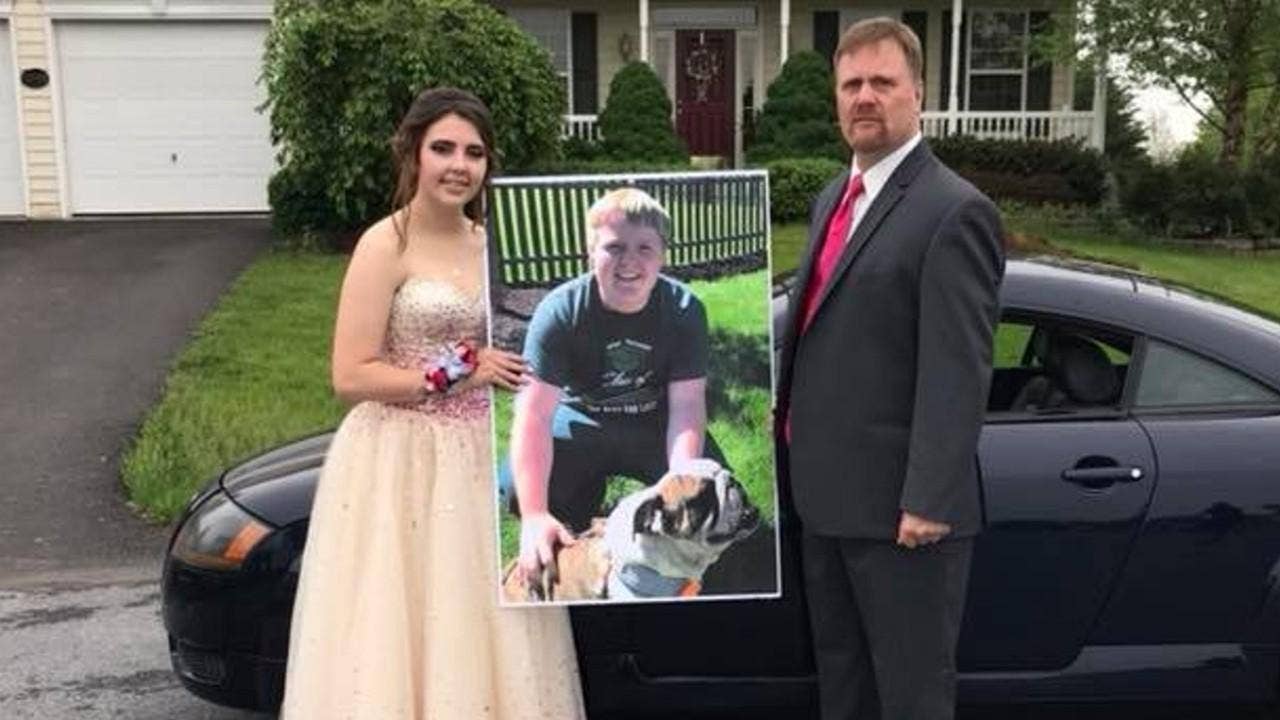 Grieving the tragic death of his 19-year-old son, one Pennsylvania father stepped up and accompanied his late son's girlfriend to her senior prom.
May 19 marked a few days after the one-month anniversary of Carter Brown's death, and also the night of the senior prom for James Buchanan High School in Mercersburg.
Carter's father, Robert Brown, escorted Kaylee Suders to the big dance in the knowledge that his son would have wanted his girlfriend of one year to attend, Fox 8 reports.
UTAH TEEN SHAMED OVER 'RACIST' PROM DRESS WINS PRAISE IN CHINA
"My son was a sweet, caring kid, and Kaylee is very sweet too, and she is a part of our family," Robert told the Centre Daily Times. "When the passing topic of prom came up, I kept thinking my son would want her to go. That prompted me to get the ball rolling."
Though a devastated Suders initially did not want to attend the prom, she agreed to attend with Robert.
"I was kind of surprised before he asked me, and it was really, really heartwarming," the high schooler told the Daily Times. "I didn't have to think about it. I definitely said "yes." It was so great of him to ask me."
That evening, the Brown and Suders families gathered for a classic prom photo shoot before heading out in Carter's "beloved" sports car, an Audi TT, Fox 8 reports. Before the big dance, Suders and Robert went out to dinner at T.G.I. Friday's — where the young couple had their first date. 
MAINE HIGH SCHOOL STUDENTS BLOCK STREET FOR PROM PHOTO AS COPS GET IN ON THE FUN
At the big dance, Suders said "everyone just thought it was amazing" that Robert accompanied her.
"Add this to the list of reasons why I love my husband… Since Carter couldn't escort Kaylee to her prom, Robert stepped in. Kaylee, I know Rob wasn't your first choice for a date, but he will forever be mine," Carter's mom and Robert's wife, Kelly Brown, wrote on Facebook.
"It takes a special kind of person to step up, especially when they're hurting and going through stuff too," Suders' mom, Christina Nicholas, said of Robert's kindness. "It's nice he took the initiative to ask her and have a good time."
Suders and Carter had been dating about a year but had been best friends for about three years, Public Opinion reports. Carter was driving home from Indiana State University on April 15 when his moved into the opposite lane and was struck head on.
FOLLOW US ON FACEBOOK FOR MORE FOX LIFESTYLE NEWS
The Brown family has weathered much more than a difficult month, Public Opinion reported. Their eldest son, Christopher, passed away in September at 23 years old. The father's effort to take Suders to the prom "gave them something to look forward to."
"We lost Chris in September. Seven months apart, it's an awful lot," Kelly said. "This gave us something to be excited about. So that was also kinda a gift to have something fun to look forward to. It was big deal for all of us."
"Life will have all kinds of curve balls that you can't control. You have to have strength and courage to move forward," Robert agreed.