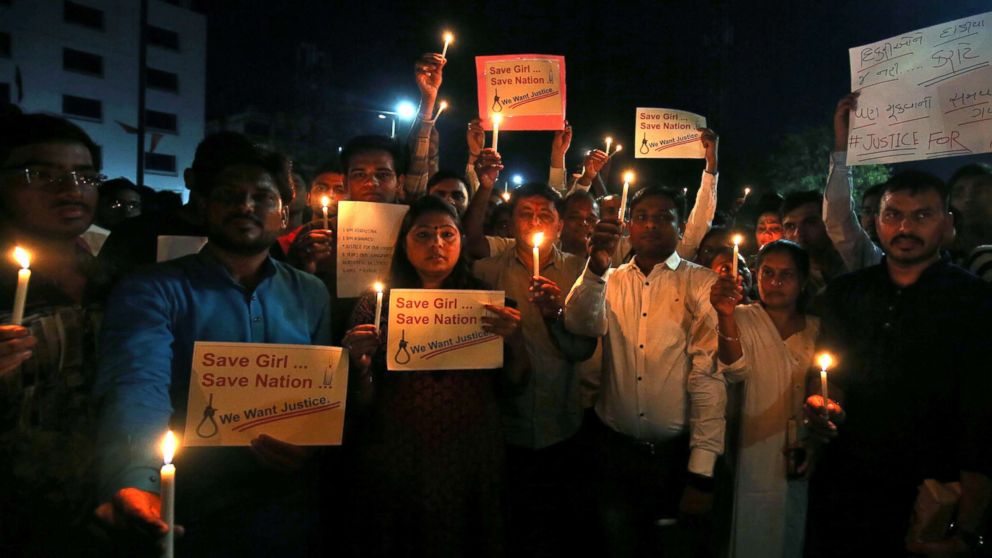 The brutal rape and murder of an 8-year-old girl in northern India has shocked the country.
Asifa Bano belonged to the Bakkarwals, a nomadic Muslim tribe who make a living by grazing cattle across the Himalayan mountains, in the Indian state of Jammu and Kashmir. She was reported missing in January, two days after she didn't return from the forests looking for her horses. Five days later, her body was found.
"The eight-year-old was kidnapped, drugged and gang-raped before being strangled and murdered.," according to Indian news outlet Firstpost's report of charges filed by a special unit of the state police force.
Investigators allege that a retired government officer, Sanji Ram, planned the crime to terrorize the Muslim nomadic tribe and drive them away from the area. Also accused in the crime, which includes allegedly destroying evidence, are Ram's son, his nephew (a juvenile), his friend and four policemen.
The eight suspects pleaded not guilty during their first court appearance on Monday, The Associated Press reported.
All of the accused are Hindus and, in February, a right-wing Hindu group marched in support of the suspects through the town of Kathua in Jammu alongside state ministers and senior officials of the Bharatiya Janata Party (BJP), part of the ruling alliance in the state.
The protesters claimed state police in what is the country's only Muslim-majority state could not be trusted to be impartial and demanded the case be transferred to a federal investigative bureau.
When police earlier this month headed to the Kathua court to lodge the charges, they had to confront a group of Hindu lawyers who blocked their way, another sign of the split along religious lines in the reaction to the case.
As more details of the crime have emerged, opposition parties have put the spotlight on Prime Minister Narendra Modi for his BJP party's support of the accused.
Protests and candlelight vigils have been held around the nation as film stars and celebrities express disgust over the crime on social media, Indian broadcaster NDTV reported.
A protest in Delhi on Sunday in support of the victim drew crowds mobilized through social media to demand that the accused not be shielded by the state. It included speeches, poetry and songs.
Modi finally broke his silence on Friday, saying, "No criminal will be spared and our girls will get justice."
Two state BJP ministers who marched in support of the accused resigned following criticism.
The court in Kathua set April 28 for the next hearing. The state has appointed two public prosecutors who are neither Muslim nor Hindu to show its "neutrality."
Meanwhile, a group of prominent retired civil servants have written an open letter to Modi saying, "The bestiality and the barbarity involved in the rape and murder of an eight-year-old child shows the depths of depravity that we have sunk into. In post-independence India, this is our darkest hour and we find the response of our government, the leaders of our political parties inadequate and feeble. At this juncture, we see no light at the end of the tunnel and we hang our heads in shame."